MARC - Precision Measurement for the Electronic Interconnect Industry

The MARC family is a group of low-cost, bench top video scopes specially designed for the PCB manufacturing industry. The MARC combines the accuracy of a tooling microscope with the convenience of a shop scope.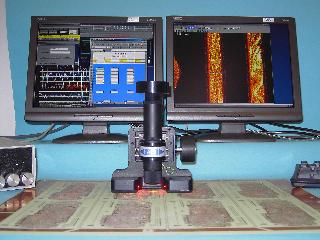 And the MARC is easy to use; the operator views the conductor through a video monitor and can make over twenty measurements per minute!
The optical system incorporates a high resolution telecentric lens with a high accuracy stage and encoder to give you the most reliable manual method of measurement available. The unknowns and indeterminates of optical magnification and focus are eliminated along with any electronic noise, resulting in a solid reliable measurement which is easily understood and verified. Long-life solid state illumination is provided both through the lens and at a high oblique angle for a complete view of the conductor, including the conductor foot.
The included proprietary SPC package (standard on most models) makes automatic data recording and analysis a reality. SPC reports, including x-bar and s charts, Cp, and Cpk are all produced on the spot, giving you the ability to control your process NOW, without having to wait for data to be logged and analyzed separately.
The MARC Plus Plus features automatic edge detection and measurements. This means that more data can be collected with no operator bias. The operator merely positions the MARC++ above the conductor to be measured and clicks with the mouse. After that, it's all automatic. X-bar and s charts, Cp,Cpk, and SPC reports are all instantly at your fingertips for on the spot process control. The MARC Plus Plus can also be used to measure artwork, developed resist (with air mount or gantry)plated and drilled holes, pads and blind vias (top and bottom of the via). The MARC is a turnkey system that comes equipped with a fully loaded computer. We are currently offering the MARC Plus Plus for sale.
This is transparent to size the page <!xml:namespace prefix = o /><!xml:namespace prefix = o /><!xml:namespace prefix = o />